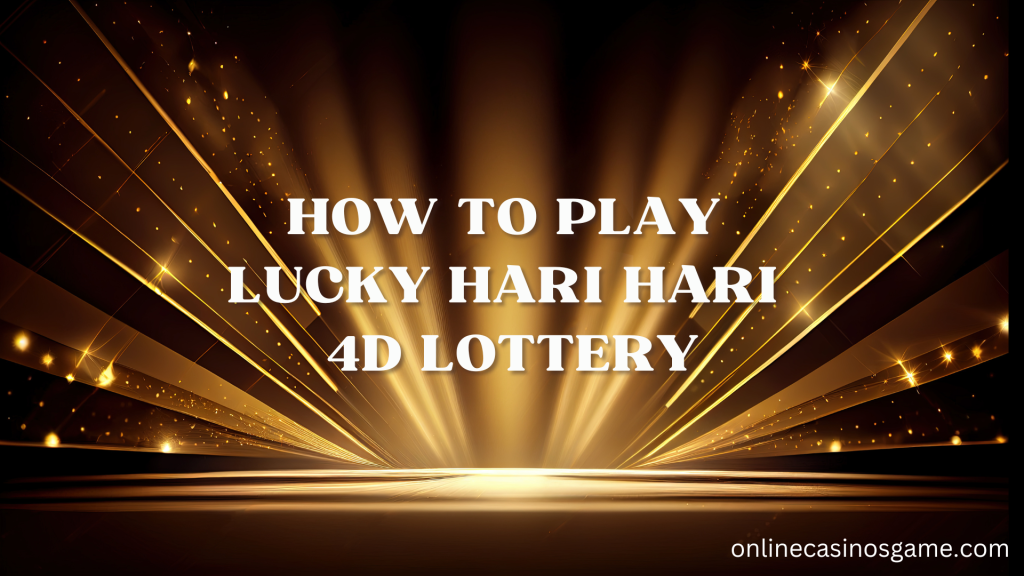 Lucky Hari Hari 4D adheres to a popular lottery format commonly found in Asia, making it a familiar choice for lottery enthusiasts. As one of the many four-digit games available, Lucky Hari Hari offers an engaging opportunity to participate and potentially win exciting prizes.
If you are new to Lucky Hari Hari, we are delighted to introduce you to this exciting opportunity and provide you with comprehensive information about what it entails. Although there is a scarcity of readily available information regarding Lucky Hari Hari, we have conducted thorough research as professionals in the field. Through our diligent efforts, we have gathered valuable insights to share with you.

Understanding Lucky Hari Hari
The Lucky Hari Hari 4D Lottery presents an exciting opportunity for players to potentially win substantial prizes by accurately predicting a set of four-digit numbers. In this comprehensive guide, we will provide you with a step-by-step overview of how to play the Lucky Hari Hari 4D Lottery, along with valuable tips to enhance your chances of winning.
One notable feature of the Lucky Hari Hari 4D Lottery is the Double Draw, offering two opportunities to check the draw results each day at 3:30 PM and 7:30 PM. This enhances your chances of securing a significant win, so make sure to leverage this unique aspect to maximize your winning potential. Fortunately, Lucky Hari Hari 4D tickets can be purchased, and prizes can be claimed by individuals of any nationality without any restrictions.
How to Play 4D Lottery Lucky Hari Hari
Playing Lucky Hari Hari 4D Lottery is straightforward, as it follows the standard rules of other four-digit games available.
To purchase a Lucky Hari Hari ticket, you must select a four-digit number from 0000 to 9999. Digits can be repeated, allowing for various combinations. For example, your ticket could be 1289 or 8899.
To win a prize, you must accurately predict all four digits and the exact order in which they will be drawn. In the event that your numbers are not arranged in the correct sequence, you will not be eligible for a prize. For instance, a ticket with the number 1583 will not win if the drawn number is 1538.
Players have the freedom to choose the amount they wish to bet on their Lucky Hari Hari ticket. The bet size determines both the level of risk for the player and the amount of potential winnings. Lucky Hari Hari requires a minimum bet of RM1 per four-digit number, regardless of the type of bet selected.
Similar to other 4D games, there are two types of bets available: big and small bets. The big bet offers a larger number of prizes but lower payouts. In contrast, the small bet has only first, second, and third prize tiers, resulting in larger individual prizes due to the limited number of winners.
Best 4D Lottery in Malaysia
Lucky Hari Hari Prizes and Odds
Like other 4D games, Lucky Hari Hari offers a first, second, and third prize, along with 10 special and 10 consolation prizes, for a total of 23 prize categories.
A random selection of a four-digit number will be made for every prize category. To win the top prize, your chosen number must match the number drawn for the first prize category. You can then check if you have matched the numbers for the second and third prize categories accordingly.
For an RM1 bet, the top prize is RM3,600 for a big bet and RM5,100 for a small bet. The second prize amounts to RM1,000 for a big bet and RM2,000 for a small bet. The third award consists of RM500 for those who placed big bets and RM1,000 for those who placed small bets. Additionally, a big bet offers a starter prize of RM200 and a consolation prize of RM60.
Apart from the main prizes, Lucky Hari Hari includes bonus jackpots and payouts. To activate these bonuses, a minimum payment of RM1 is required. The bonus payment will be either 100%, 50%, or 30% of the jackpot pool, depending on the drawn numbers and the player's selection.
Steps to Purchase Lucky Hari Hari Lottery
To play the Lucky Hari Hari 4D Lottery, follow these simple steps:
Purchasing Lottery Tickets: Visit authorized retailers or trusted online platforms to purchase your Lucky Hari Hari 4D Lottery tickets. Ensure you obtain them from reliable sources to avoid scams.
Selecting Your Numbers: Choose a set of four-digit numbers that you believe will be drawn as the winning combination. You can use various methods, such as analyzing past results, utilizing statistical methods, or following your intuition.
Choosing Your Bet Amount: Choose the amount you wish to bet on your chosen numbers. Remember that the prize amount will depend on the size of your bet.
Increasing Your Chances of Winning
Increase your winning chances in the Lucky Hari Hari 4D Lottery with these strategies:
Analyzing Past Results: Study past results to identify any patterns or trends that may help you make informed number selections.
Utilizing Statistical Methods: Use statistical analysis techniques to analyze the frequency of certain numbers or combinations and make data-driven decisions.
Joining Lottery Pools: Consider joining a lottery pool where you contribute with other players to purchase more tickets, increasing your collective chances of winning.
Checking the Draw Results
Keep checking the results of the draw to see whether you've won anything. Lucky Hari Hari 4D Lottery offers draw results twice a day at 3.30 pm and 7.30 pm. Make use of official websites, mobile apps, or authorized online casino platforms to check the winning numbers.
Claiming Your Winnings
If you are lucky enough to win the Lucky Hari Hari 4D Lottery, follow these steps to claim your winnings:
Prize Claim Process: Familiarize yourself with the prize claim process, including the necessary documents and procedures required to validate your winning ticket.
Prize Collection Platform: Identify the authorized prize collection online casino platform where you can collect your winnings.
Qualified for Bonus Prize
The Bonus Jackpot is exclusively applicable to our 4D BIG and 4D SMALL products. To qualify for the Bonus Jackpot, the minimum bet per 4D number must be at least USD 1 (or equivalent to RM 4). This minimum bet requirement does not include a combination of USD1 (or equivalent to RM4) for both SMALL and BIG 4D.
For example, if a user purchases 1234 with RM2 for SMALL and RM2 for BIG, this combination of RM4 does not qualify for one unit of the Bonus Jackpot since the 4D number bet is only RM2. Each individual 4D number bet with USD1 will entitle you to earn one unit share of the Bonus. If your bet exceeds USD 1.99, you will earn two units of the Bonus.
Conclusion
Engage in the exciting gameplay of Lucky Hari Hari 4D Lottery and unlock the potential to win impressive rewards. Lucky Hari Hari can be enjoyed by accessing the reputable software provider, Ekor, for a seamless gaming experience. By following the steps outlined in this guide and implementing effective strategies, you can enhance your gameplay and increase your chances of winning. Embrace responsible play and relish the exhilaration that the Lucky Hari Hari 4D Lottery offers.
FAQs About Lucky Hari Hari 4D
---
---
Contact Form