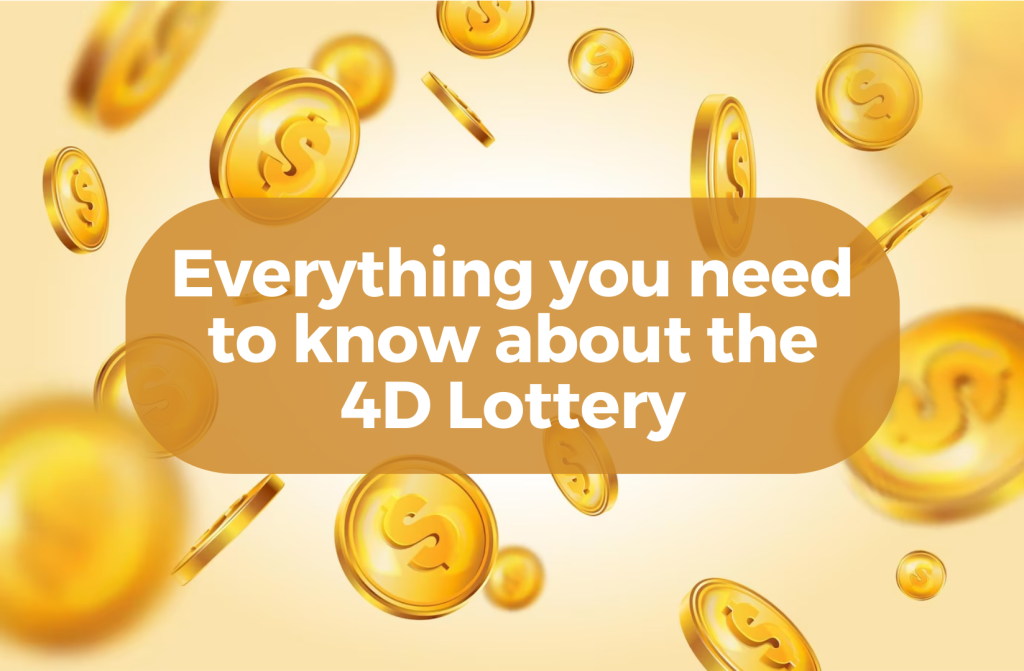 What is the Online 4D Lottery?
Lottery games have gained significant popularity as a form of entertainment in Malaysia. Particularly, online 4D lotto games have captured the attention of many Malaysians due to their potential for life-changing rewards. From Magnum 4D and Damacai to Toto and Lucky Hari Hari, Malaysia offers a diverse range of lottery games to cater to different preferences. Whether you seek a quick and simple game or one with greater odds, there is a lottery game suited to your style. With the right strategy and a touch of luck, you can join the fortunate few who win substantial prizes.
The chance to win large sums of money makes lotteries a thrilling form of entertainment. However, lotteries' legality varies widely from one nation to the next. Some governments have concerns about the compatibility of lotteries with religious beliefs. However, lotteries are legal and quite popular in places like Malaysia and Singapore. Explore further to discover the various types of lottery games available in Malaysia and enhance your gaming experience.
What is the process involved in the 4D lottery in Malaysia?
The 4D lottery operates by conducting random draws of four numbers from a pool ranging from 0 to 9. The sequence in which the numbers are drawn is crucial, as players must match their selected numbers in the exact order to secure a win.
Because of their accessibility and lack of complexity, 4D games have exploded in popularity in Malaysia and Singapore. Participants are free to choose any four-digit number from 0000 to 9999 and place bets in their preferred amounts. The widespread appeal of 4D games has led to the presence of six licensed operators, including renowned names like Magnum, Toto, Damacai, and, of course, Lucky Hari Hari, with the latter being one of the best-known operators in Peninsular Malaysia.
It is strongly advised that individuals engage in 4D games exclusively with these licensed operators rather than resort to illegal bookmakers. By doing so, all winnings are guaranteed under the supervision of these authorized 4D operators. While 4D games can be entertaining and thrilling, it is important to exercise caution and avoid becoming addicted. Responsible play involves using only disposable income for such activities.
How to play the 4D lottery in Online Casino Malaysia
To play online, users must create an account to verify their identity and track their winnings. Online lottery websites come in different forms, either hosting their own games or utilizing third-party providers for drawing winning numbers. These platforms are typically regulated and ensure security and fairness. Some online lotteries offer subscription services that enable customers to regularly buy tickets over a longer period of time. It is crucial to play responsibly by allocating a reasonable budget per ticket and choosing a licensed and secure lottery website that protects against fraud and employs encryption measures.
Step 1: Select your fortune's four-digit number
As mentioned earlier, participants are required to select a combination of four digits from the range of 0000 to 9999.

Step 2: Check 4D Results
After choosing your preferred numbers, it is necessary to check the jackpot results.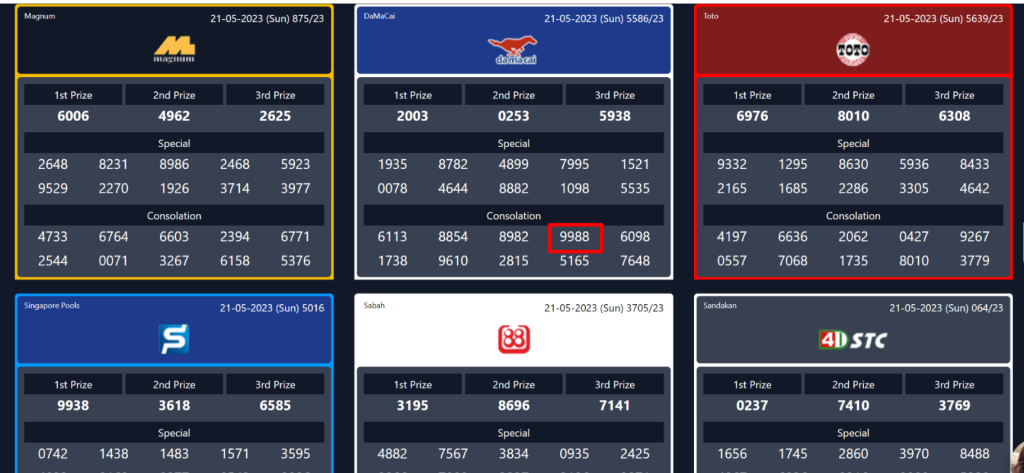 Step 3: Verify your ticket
Seasoned players advise diligently reviewing your ticket with the selected numbers. Paying attention to this step is crucial and should not be overlooked.
4D Operators in Malaysia
Magnum 4D
Coincidentally, Magnum 4D is a prominent lottery provider that holds an official license. Over time, it has grown into a leading organization renowned for its quality service and dedication to the gambling industry. Magnum 4D offers the traditional version of the popular 4D lottery, allowing participants to select four numbers from the range of 0000 to 9999. Subsequently, a set of 23 random numbers is drawn, revealing the jackpot results. The lottery offers both "big" and "small" bets, which impact the prize amounts. Notably, small bets have the potential for higher winnings, specifically in the first, second, and third positions. All lottery results draws, and jackpots are regularly updated and published on lottery websites.
DAMACAI 4D
DAMACAI 4D is a prominent game provider in Malaysia, offering a 3D lottery game. To get started, players have to choose a four-digit number between 0000 and 9999. Afterward, participants must choose between two types of bets: "big" or "small." Players have the choice of placing either sort of wager throughout any given round. Seasoned players recommend placing "big" bets, also known as ABC bets, as they have the potential for higher payouts. The minimum wager for this type of lottery is RM1. To stay updated with the results, you can always refer to the official DAMACAI 4D website.
Lucky Hari Hari
The Lucky Hari Hari 4D is a leading player in the lottery industry, renowned for its highly rewarding payout structure. With two draws held per day and transparent result announcements, players can trust the fairness of the game. By selecting a four-digit number, participants stand a chance to win the grand prize of 3 million Malaysian ringgit. The game is easily accessible through online casino apps, enabling players to conveniently purchase lottery numbers using their mobile devices. Lucky Hari Hari can be accessed through lottery providers like Ekor.
Probability of winning the 4D Lottery Online
The probability of winning the 4D lottery varies depending on the game and the number of potential combinations. Typically, the odds range from approximately 1 in 1,000 to 1 in 10 million, depending on factors such as the frequency of participation in draws per week. It's important to note that the 4D lotto is a game of chance, and the probability of winning is influenced by factors such as the total number of possible outcomes and the number of tickets sold. While the odds may be challenging, many players have won substantial prizes by employing effective strategies and making informed number selections.
Hence, it is crucial for potential players to carefully examine the various types of games offered by operators and determine which ones offer the highest probability of success before engaging in any draws or making any purchases. It is essential to bear in mind that responsible gambling entails conducting thorough research prior to participating.
4D lottery tactics for winning
Although the 4D lottery is primarily based on luck, there are strategies you can employ to enhance your winning potential:
Analyze Past Results: Study previous draw results to identify any patterns or trends that could help you make informed number selections.
Utilize Statistical Methods: Apply statistical analysis techniques to analyze the frequency of certain numbers or combinations, helping you make data-driven decisions.
Play Consistently: Engaging in the lottery consistently can enhance your likelihood of winning as you participate over time. Consider setting a budget and playing consistently to improve your odds.
Join Lottery Pools: Pooling resources with other players can increase your collective purchasing power, allowing you to buy more tickets and improve your overall chances of winning.
Play Responsibly: While it's exciting to participate in the 4D lottery, always remember to play responsibly and within your means. Set a budget, don't chase losses, and enjoy the game for its entertainment value.
By implementing these strategies and staying informed about the latest draw results and schedule, you can enhance your overall experience and maximize your chances of winning in the 4D lottery.
Conclusion
The 4D lottery presents an exhilarating opportunity for players to engage in a game of chance with the potential for significant payouts. While winning the 4D lottery cannot be guaranteed by any foolproof method, employing certain strategies can enhance your likelihood of success. It is crucial to approach the game responsibly and exercise prudent management of your winnings in the event of a fortunate outcome.
FAQs About 4D Lottery
The minimum age to participate in the 4D lottery may differ based on the jurisdiction in which you are playing. Generally, individuals must be at least 18 years of age to take part in the 4D lottery. However, it's important to check the specific regulations and legal requirements of the lottery operator or the jurisdiction you are playing in to ensure compliance with age restrictions.
Absolutely! If you found a platform that provides various types of Lottery, it allows you to participate in multiple 4D lotteries simultaneously. You can choose to play in more than one lottery, such as Magnum 4D, Damacai, Toto, Singapore 4D, Sabah 4D, Sarawak 4D, and Lucky Hari Hari 4D. This allows you to expand your winning possibilities and enhance your lottery experience.
Lucky Hari Hari offers a unique and thrilling 4D lottery experience that sets it apart. With its Double Draw feature, you have two chances each day to check if your numbers are winners, doubling the excitement. Enjoy the convenience of online play, engaging with a vibrant community of fellow players, and the chance to win enticing jackpot prizes that can change your life.
---
Contact Form